Zurie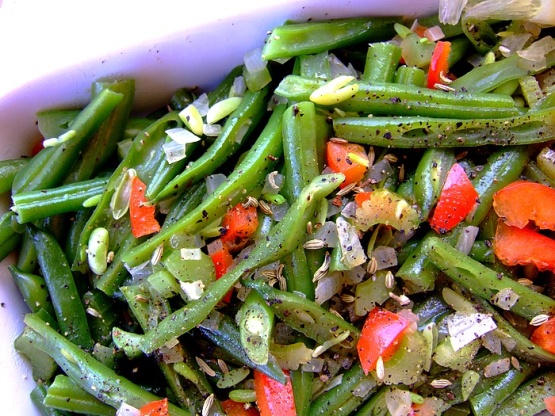 From the Diabetic website. A touch of cider vinegar and dill seeds, plus a trio of chopped vegetables, adds sparkle to this side dish.

Top Review by Zurie
Reviewed and photographed for PHOTOTAG, March 09. A pleasant, light and healthy side dish, and definitely not for diabetics only. I'm always attracted to healthy veggie ideas, and this one really fits the bill. I did use more butter and water (I don't use margarine at all). I didn't have frozen beans and used fresh beans. I also removed the beans from the pot when they were still crisp, then I stirfried the other chopped veggies in the same pot, just a little, adding a touch of apple cider vinegar. Then I mixed everything together again. The recipe is somewhat bland, so I added flaky sea salt, garlic and pepper. I thought if I didn't fry the celery-onion-pimiento combo just a little, it might be a little too crisp to our taste. A little buttery liquid was left in the pot, which went over the beans. I tasted some, and I really like this side dish!! One caveat: I used about 10 - 11 oz of beans, and I bet this dish won't stretch to more than 3 people! We're only two, and I think we'll scoff the lot tonight with our lamb steaks, etc! Thanks, Lorrie, I can see I might adapt this recipe slightly and use many more times, because we love green beans!!
In a medium saucepan, heat margarine and water over medium heat until margarine melts, swirling to coat bottom.
Add beans and cook for 1 to 2 minutes, separating them with a fork. Reduce heat to low and cook, covered, for 5 to 6 minutes, or until beans are crisp-tender.
Stir in remaining ingredients and heat thoroughly.
(Celery and onion should remain crisp.).