French Style Chicken Breasts
V.A.718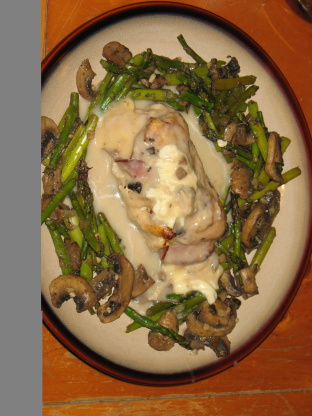 I got this recipe from an old cookbook so many years ago I have forgotten which one. It is a wonderfully simple and elegant dish I have served many many times to company. Great with a rice dish and broccoli or green beans.
Pound chicken to flatten to about 1/4 inch thick.
Season with salt, pepper and garlic to taste.
Place a slice of ham and a slice of cheese on each.
Roll up as you would a jelly roll and secure with toothpicks or poultry string.
Brown chicken on all sides in oil or butter and place in casserole dish.
Mix white wine and mushroom soup and pour over chicken.
Bake at 350 degrees for 35-45 minutes or until done.