chia2160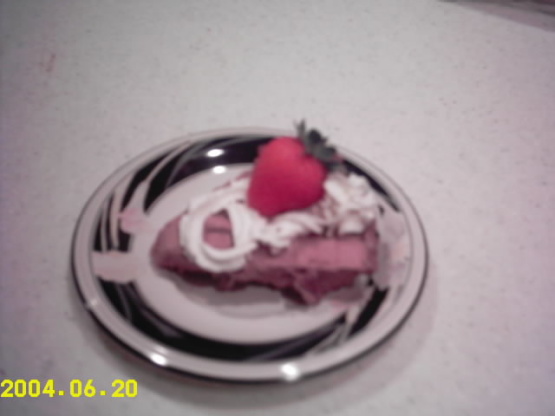 Hands down, THE most requested item for birthdays or any other occasion in my husband's family! To die for!

Amazing X 10. The best pie I or any of my guests have ever had. I used another recipe with 2 ounces of chocolate in it. What a bust that was. Followed it exactly except I used the Pioneer Woman's graham cracker crust with this and that made it a 10 out of 10. P.S. Pioneer Woman uses RAW EGGS for her recipe which I would never serve to children.
Cream the margarine with the sugar until light and fluffy with a hand-mixer.
Add the eggs one at a time, beating 3 minutes after each.
Melt the chocolate slowly, either on stovetop or microwave.
Add the melted chocolate and the vanilla to the egg mixture, combining well.
Pour into the graham cracker crust.
Refrigerate at least 2 hours.
When ready to serve, top with the whipped whipping cream- do not add sugar to it.