loof751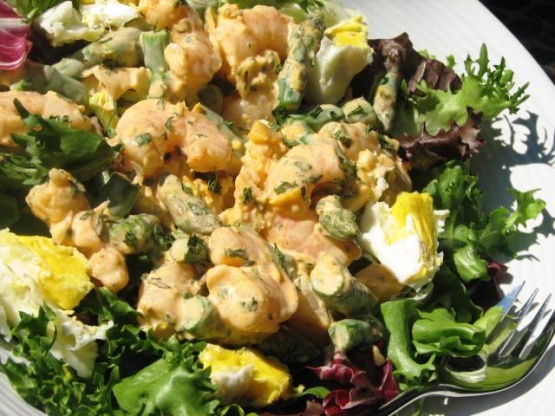 A nice lunch over greens.

Oh Parsley! This salad was FANTASTIC!! I loved this combination of ingredients and the dressing put it over the top - loved the tarragon! I left out the onions (personal preference) but otherwise made as directed. I think this would even be great without the shrimp. Thanks so much for posting this!
Cook the asparagus pieces in boiling salted water just until fork- tender, but still a little crisp. Drain and rinse under cold water.
In a large bowl, toss together asparagus, onion, shrimp. chopped hard-cooked eggs, and coarsley chopped artichoke hearts.
In a small seperate bowl, stir together mayo, lemon juice, french dressing, tarragon, parsley and salt and pepper.
Pour dressing over salad mixture and toss well to coat evenly.
Place greens on a serving platter/bowl, place salad on top, and garnish with slices of hard-cooked egg.