French Scrambled Eggs With Truffle Oil
Leslie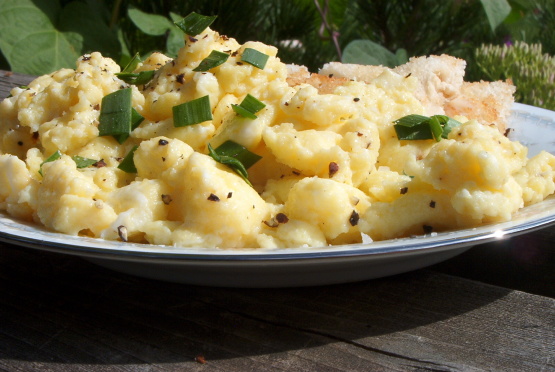 These creamy, custardlike scrambled eggs from Elisabeth Daniel sommelier Peter Birmingham have a luxurious flavor. They are perfect for those 3AM breakfasts when you need something quick and are not quite ready to go to bed. Bring your friends and that special someone into your kitchen and whip these puppies up. The rich, ripe Chardonnay fruit and yeasty aroma of the 1996 Schramsberg Blanc de Blancs sparkling wine make it a real friend to truffles. The wine's creaminess and balance also perfectly match the sumptuous eggs.

Great way to cook eggs. It took a little while-but maybe I had the water simmering too low? Anyway, it didn't matter because I was cooking Latkes while I was tending the eggs. They are very soft, fluffy, and delicious. The toppings went really well with the eggs-I followed as directed and the white truffle oil, the sea salt, pepper, and chives went very well together. The only thing I didn't do was serve with brioche.
12

large eggs
1⁄4 cup mineral water, plus

2

tablespoons mineral water

6

tablespoons unsalted butter, cold (cut into small pieces})

2

teaspoons white truffle oil

1

tablespoon chives, finely chopped

6

brioche bread, warmed or 12 slices brioche bread, toasted
In a bowl, whisk the eggs and water;.
Melt 2 tablespoons of the butter in a large stainless steel bowl set over a pot of simmering water; Add the eggs and cook over low heat, gently stirring with a heatproof rubber spatula and scraping the bottom of the bowl until the eggs just begin to set, about 5 minutes;.
Add the remaining butter to the eggs, 1 piece at a time, and cook, stirring and scraping the bottom and sides of the bowl, until the eggs are thick and cooked through but still soft, about 5 minutes longer.
Season with salt and pepper; transfer to plates.
Drizzle with the truffle oil, sprinkle with the chives and serve at once with the brioche.