Nif_H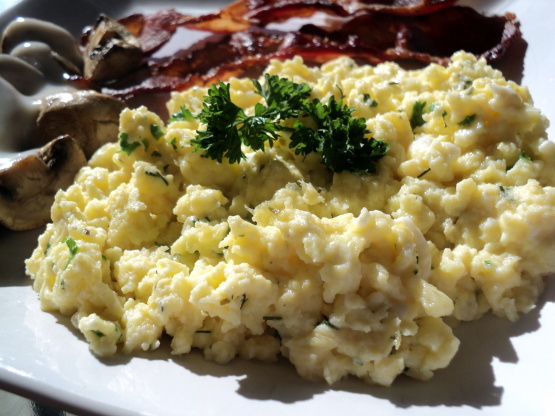 This is from the Schoolhouse Cookbook, 2001. They recommend pairing this with steamed asparagus.

Top Review by Nif_H
These eggs were super easy to make and very good (even though I overcooked them a bit!). I scaled the recipe down to use 2 eggs. I really like the addition of the cream cheese and I used low fat. The dill was great! Made for my adopted chef for PAC 2011. Thanks PrimQuilter! :)
Whisk eggs, milk, salt and pepper in 1 bowl.
Mash cream cheese, parsley and dill in another bowl.
Heat butter in a large skillet.
When melted, pour in eggs.
When eggs begin to thicken, add cream cheese mixture in several chunks until eggs are set and creamy.