IngridH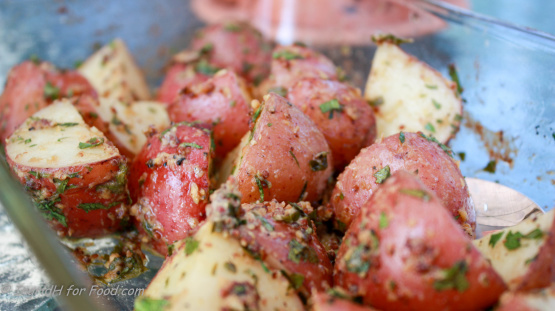 A twist on roasted red potatoes

With the exception of using small Yukon Gold's instead of the red's (what I had) I just followed the recipe. They came out just great. Well cooked and soft in the inside with a perfectly golden brown roasted outside. The mustard gives a very mice, not overpowering, flavoring that makes these special. I served them tonight with fish fillets and my portion of fish I rubbed in the bowl that had a light film of the mustard mix left in it. It added a very mild but nice touch to the fish as well.
Preheat oven to 350 degrees F.
Place potatoes and garlic in a lightly greased roasting pan; cover tightly with foil.
Bake for 45-60 minutes or until potatoes are just fork-tender.
In a medium bowl, blend mustard, butter and parsley; toss with hot potatoes.
Bake uncovered for 15 more minutes.
Serve immediately.