Derf2440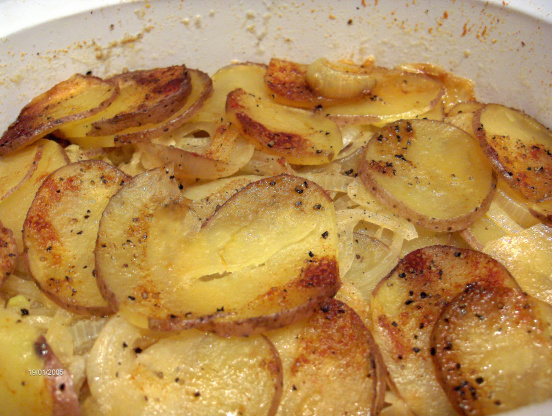 This is a no-fuss microwave potato dish that really makes a hit. I serve it for special occasions, as well as any old time. It's from the book MICROWAVE COOKING by Beverley Piper.

I couldnt believe how wonderful these were. I am not one too cook in the microwave and they sounded too simple to be so good but they were excellent! The potatoes had a really great flavour and they hardly had any fat in them. I would serve them as a side dish for company any day. If anyone wonders I weighed the poatoes and it took 6 medium size.
1 1⁄2 lbs potatoes, peeled and very thinly sliced

1

medium onion, sliced into rings

3

teaspoons butter
salt and pepper

6

teaspoons milk

1

pinch paprika
Put the potato slices to soak in cold water.
Put the onion rings into a bowl.
Cover with plastic wrap, and pierce.
Microwave on HIGH for 1 minute.
Grease a five cup casserole dish with a little of the butter.
Layer the drained potatoes and onions in the dish, starting and finishing with the potatoes.
Season each layer with salt and pepper.
Pour the milk over the potatoes and dot with the rest of the butter.
Sprinkle the top with paprika.
Cover with plastic wrap, and pierce.
Microwave on HIGH for 13 minutes.
Rotate half-way through cooking time.
Allow to stand, covered, for 5 minutes before serving.