Ingy1171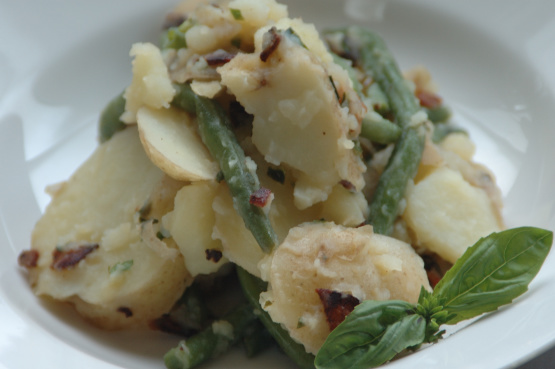 Great change from the old standby, and it doesn't encourage salmonella quite as quickly at a picnic! My husband begs for this as soon as the fresh ingredients are available! The tangy dressing is so good!

Barb, this was so delicious! The measurments for the oil and vinegar are missing, so I used 1/4c and 1/2 c. I also used fresh basil and Italian parsley. At first I thought there was going to be way too much dressing, but the potatoes slurp it right up! This was easy to prepare, and the flavor is incredible. Thanks for posting this mayo-free alternative!
Slice potatoes with skins on, app.
1/4 inch thick, cover with water and cook til fork tender.
Cook green beans till crispy done.
Fry up bacon, crumble and drain.
Mix all other ingredients in small bowl and whisk to combine nicely.
Gently stir spuds, beans and bacon together.
Pour dressing over all and mix gently.
Serve room temp, or piping hot if you wish.