Debbwl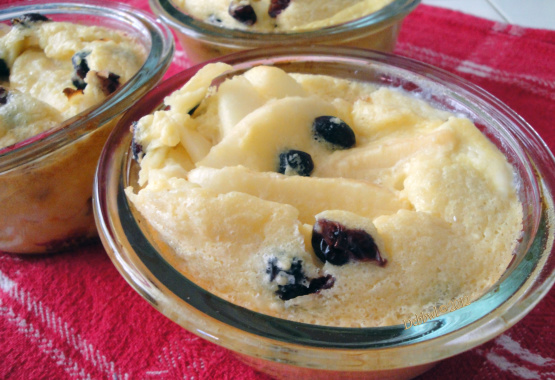 From a low GI Cookbook. Times are estimated. Note 1 - Try using chopped dried pear instead of the sultanas to further reduce the GI value. Note 2 - You can use a low-calorie sweetener suitable for cooking instead of the sugar and this will slightly reduce the energy content, carbohydrate content and GI value of the finished dish. Given a low GI rating.

Yummy although I made this a bit differently than written. First I used 3 smaller pears which were Bartletts grown in Hood River, Oregon. The pears were pureed then I proceeded with the recipe replacing the sultanas with Oregon-grown dried cranberries. Meyer lemon juice and zest replaced standard lemon. I don't know if "pudding" in Australian is the same as pudding in the States which is very smooth and no lumps. This was very delicious and took close to 1 hour to bake. I used whole milk, too. Reviewed for Make My Recipe Downunder/September.
Preheat oven to 180C (350F/Gas 4).
Lightly spray 4 x 1 cup (250ml/8floz) capacity non-stick muffin holes with canola oil spray.
Put pear slices and lemon juice into a bowl and mix to combine and then layer the pear slices and sultanas into the muffin holes.
Whisk together the flour, sugar, eggs, vanilla and milk and pour over the pears and bake for 20 to 25 minutes or until set.