Condor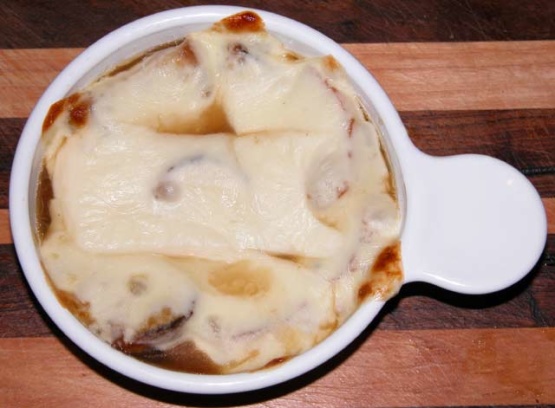 Better than restaurant onion soup. Make the entire quantity and place in freezer in heavy duty freezer bags. When vidalias are in season, I double and triple the recipe to have the soup on hand.

This was delicious! It does take FOREVER to caramelize five pounds of onions, but it was worth the wait. I used the better than bullion stuff but I didn't heat it separately and then add it to the onions because I didn't want to dirty another big pot. I just added to bullion to the onions when they were ready and poured in 10 cups of boiling water. The soup was really rich and I can't imagine it would have tasted any better if I had cooked the stock separately.
Make stock by bringing 10 cups water to boil.
Add beef and chicken bouillon pastes (or heat canned beef and chicken broth).
Lower heat to simmer and let simmer while preparing onions.
Melt butter slowly (so it does not brown) in large soup pot over low heat.
Add thinly sliced onions.
Stir, cover, and cook on low heat until lightly brown, stirring occasionally, about 30 mins.
Add wine, bring to boil, scraping up browed bits.
Cook about 5 mins.
stirring occasionally.
Add about 5 good shakes of worcestershire sauce.
Add stock to onions.
Bring to boil, turn heat down to simmer and simmer uncovered about 1 1/2 hrs.
Season to taste with salt and pepper.
BREAD SLICES- BRUSH OLIVE OIL ON SLICES.
SPRINKLE WITH PARMESAN AND PLACE IN OVEN ON COOKIE SHEET AT 375f UNTIL LIGHTLY BROWN.
Ladle soup into ovenproof bowls.
Float bread on top of soup.
Top with 2 or 3 cheese slices.
Place in oven or microwave until cheese melts.