Diana 2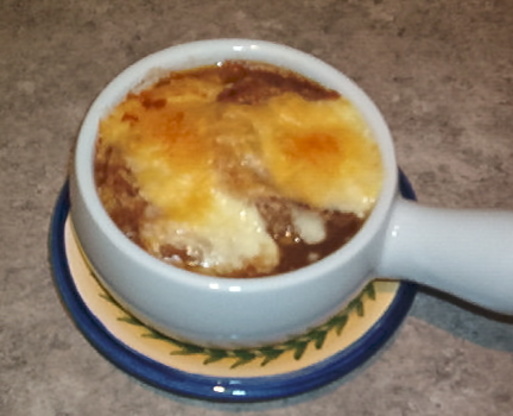 There are several onion soup recipes on zaar, but this one is a little different and one that I've been making for years. I can't remember where I got it from, though. It doesn't take long to prepare.
In 4-quart saucepan over medium high heat, melt butter.
Add onions, garlic and brown sugar, cook about 15-20 minutes until golden and tender.
Add in flour, beef broth, vinegar, 2 cups water, heat to boiling.
Cover and simmer for 10 minutes.
Meanwhile, cut 8 1/2-inch thick slices of bread.
Toast slices in 325°F oven until brown.
Turn oven to 425°F.
When soup is ready, spoon into soup bowls or soup crocks.
Place 2 slices of toast in each bowl. (If desired, cube the toast before placing in soup.
Sprinkle each bowl with shredded cheese.
Bake 5 minutes or until cheese melts.