French Onion Grilled Cheese (From the Sandwich King)
Dantana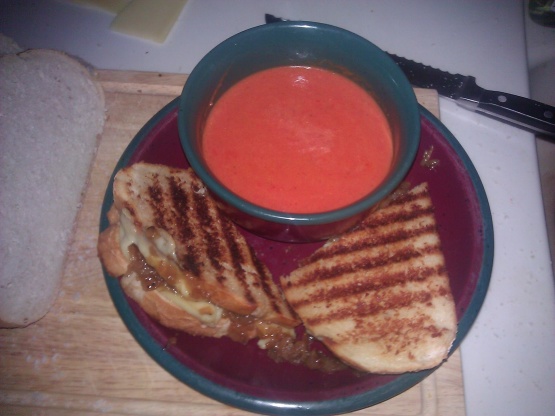 This recipe has a twin! Be sure to pair it with 'Roasted Tomato Bisque' for a double whammy in the comfort food department. The carmalized onions are perfect with the sharpness of the tomato soup and soft goodness of the cheeses used. A perfect pair if there ever was one! When cooking the onion be sure to let them get nice and brown to maximize flavor!

We really enjoyed these! Didn't serve them with your soup, but another that I had made. I used American one one side of the onion and shredded mozzarella and some parmesan on the other. I don't think you could go wrong using any easy to melt cheese. The onions were not overpowering, just fabulous. Perfect balance of cheese and onion. Thanks for sharing this delicious recipe.
Melt 1 T butter with 1 T olive oil in a heavy bottomed pot over medium high heat.
Slice yellow onions 1/4" thick from root to tip and add to pot.
Add salt and pepper.
Spread onions in an even layer.
Cover and turn heat to medium low.
Sweat onions for 10 or 15 minutes.
Uncover onions and cook until carmalized, 25 or 30 minutes while stirring frequently.
Add sherry and scrape up bits on bottom of the pan.
Stir in fresh thyme and salt and pepper.
Preheat a griddle on medium heat.
Butter both sides of bread.
Put 1 slice of cheese on 4 pieces of bread.
Add some carmalized onions to the sandwich.
Close with other slice of bread.
Place sandwich on griddle and cover with a metal bowl (or tent with tin foil). Get sandwiches cooking a nice golden brown (2 or 3 minutes).
Flip, cover again and cook until the cheese is melted and sandwich is golden brown (2-3 minutes).
Cut on a diagonal.
Serve with Roasted Tomato Bisque!