Basil321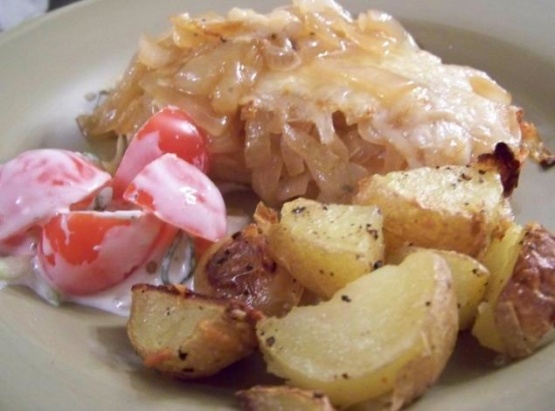 If you love french onion soup, then you will go crazy for this easy and healthy meal. Serve with oven roasted potatoes and asparagus.This is also great with 2 cups of fresh mushrooms which can be cooked along with the onions.
Pound chicken breasts to 1/2 " thickness. Season well with Salt & Pepper. Melt 1 tbl of Olive oil and 1 tbls of butter in a large saute pan.Cook until brown on both sides. About 4-5 min each side.
Remove chicken from pan and place into a baking dish, set aside. Melt 2 more tbls of butter in same saute pan. Add Onions and 1/4 tsp salt. cook until onions are light brown and slightly caramelized.
Add 1/2 cup white wine or chicken broth and let cook for about 5 minutes or until most of the liquid is absorbed. Place onion mixture on top of chicken and add cheese. Bake uncovered for 30 minutes at 350 degrees.