Prep 10 mins
Cook 20 mins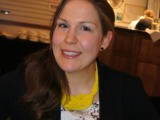 A fantastic recipe given to me by my workmate. I was a bit wary of trying it out as it had sour cream and my hubby hates sour cream but I cooked it without telling him and he loved it. Its regular meal now and if we have no chicken I substitute with beef cubes or chicken sausages. Apparently the original recipe called for chicken Pieces.
Directions
Cube chicken fillets and place in plastic bag. Add flour and soup mix to the bag and shake until chicken is coated. Don't worry if there seems to be a lot of dry mix left in the bag.
Place coated chicken and oil into frying pan leaving the left over dry mix in the bag to the side.
Brown the chicken and remove from the pan.
Dice the bacon and onion and place in the frying pan where the chicken was cooked and cook until onion is translucent.
Add the chicken back into the frying pan with the bacon and onion.
Take the left over dry mixture and add to the cup of water and mix. Pour this mixture over the ingredients in the frying pan.
Simmer for around 20 minutes adding more water if needed.
While this is simmering prepare the couscous as directed on the packet and heat the frozen vegetables (I use the microwave).
After the 20 minutes, or when you are happy the chicken is cooked, add the sour cream mixing well. At this point I chuck in the prepared couscous and the vegetable but you can just add the vegetables and serve the chicken mixture over the couscous.
Most Helpful
Great quick simple weeknight meal! I left out the additional onion and added peas for my veggie. I was a short on sour cream and only used about half of the specified amount but thought it was really good that way. Served as suggested over couscous; I think this would be great over mashed potatoes as well. Thanks for posting this recipe!

This was a delicious dish. I don't even like onions, but will make this again. I added more water, after I added the soup mix and water and let it simmer for 20 minutes. I wished I would have just left the sauce thick as it was and then added the sour cream, the gravy would have then been thicker , just the way I like it. Next time, I'll just follow the directions, and not add the extra water. Thanks for a great recipe.
This was really good. I used chicken cutlets and didn't cut them into chunks and didn't add vegetables because I was having corn and okra, but made otherwise. I will make again and like Wildflour, use noodles. I had biscuits instead to sop up the gravy. Thanks for sharing.