French Onion Beef-Noodle Bake
Nimz1466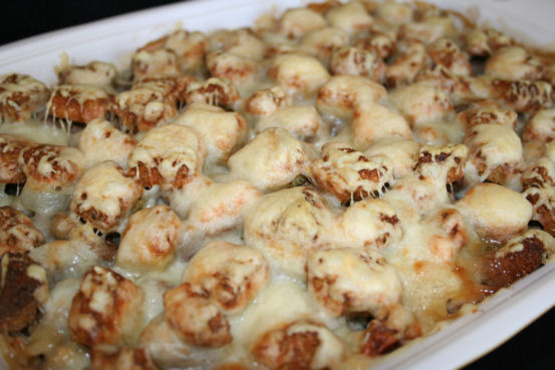 A hearty casserole served with some good homemade bread-Pure comfort food!

Very nice combination of flavors. I really loved the pasta and croutons in this recipe and Dave really enjoyed the meat portion(he's not a big pasta fan). But we really enjoyed the dish as a whole. I altered the cooking method a little. I saute the onions (which I don't know if they were sweet or not but they tasted great) for 20 minutes, then added the mushrooms for 10 minutes then added the beef for the last 10 minutes. I was afraid if I put the meat and the mushrooms in together they would be way too done. I also used recipe #129971 for the noodles because of the garlic. This recipe screamed garlic. Other than that I followed the recipe. Thanks for sharing.
Heat oven to 350°F; cook and drain noodles as directed on the package.
In a 5-quart dutch oven, melt the margarine.
Add the beef, onions and mushrooms; cook about 30 minutes, stirring often, until beef is browned on all sides, the onions are soft and the mushrooms are browned.
Spread the noodles in bottom of ungreased 13x9 inch glass baking dish.
Spoon the beef mixture over the noodles.
In the same Dutch oven, heat 2 1/2 cups of the broth to boiling. In a small bowl, mix the remaining 1/2 cup broth and flour until smooth; stir the flour mixture into the boiling broth.
Cook, stirring constantly until thickened.
Stir in the rosemary, salt and pepper.
Pour over the beef mixture; stir until blended.
Sprinkle with the croutons and cheese.
Bake for 35 minutes.
Tip: Be sure and give the onions enough time to caramelize. Well worth the great flavor!