KateL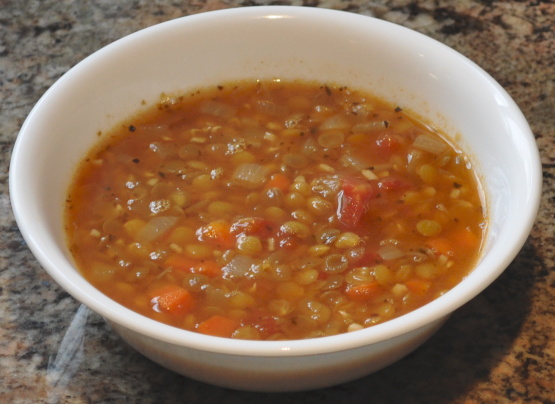 Translated and adapted from a French recipe on the back of the lentil bag label. If you subsitute garam masala for the herbs the provence, you'll have Indian lentil soup. Add fresh mint, and you'll have a Morroccan version.

Top Review by KateL
Please see my rating system, as I think the documentation of the recipe needs improvement. We enjoyed this as a hearty and healthy lunch, although we prefer the complex spiciness of Indian lentil dishes with red lentils or toor dal. DH liked this without the red wine vinegar, although I enjoyed the brightness of it. Next time I will try with a splash of dry sherry. The recipe's ingredient list did not include any oil for sauteeing the onion & garlic, nor did it show any quantity for broth. The Chef prefers French lentils (which are small green lentils), but his ingredient list shows regular lentils. As a result, the shopping list is incomplete, and the nutritional data is off. I made with 2 tablespoons olive oil, 6 cups low-sodium chicken broth, 15 oz canned diced tomatoes, and large green lentils (because I couldn't find French lentils) and a splash of red wine vinegar. My nutritional results per serving (with French lentils) were 336 calories, 7.5 g total fat, 1.3 g sat fat, 4.2 g sugars, 95.8 mg sodium, 49.1 total carbohydrates, 8.8 g dietary fiber, 22.1 g protein. I sauteed the onion & garlic over medium heat so the garlic wouldn't burn, and I gave that 10 minutes. My large green lentils took 20 minutes to "pop". Considering we didn't expect to like lentils, this recipe made this healthy meal enjoyable. Made for Spring 2013 Pick-A-Chef.
In a large pot, saute the onion and garlic.
Add tomatoes and carrots.
Add lentils and herbs. (Thyme works great alone too). Make sure you have small green lentils: sometimes the other types can get mealy.
Add vegetable broth about 1 inch above lentils.
Bring to a boil, then let simmer, stirring once in a while.
When the lentils are soft and soup thick, you are done.
Add salt/pepper or more herbs to taste.
A splash of vinegar in your bowl on top of the soup is delicious! (French recipe suggested it, and it was great).