French Lemon Tart - Lightened up Version
ImPat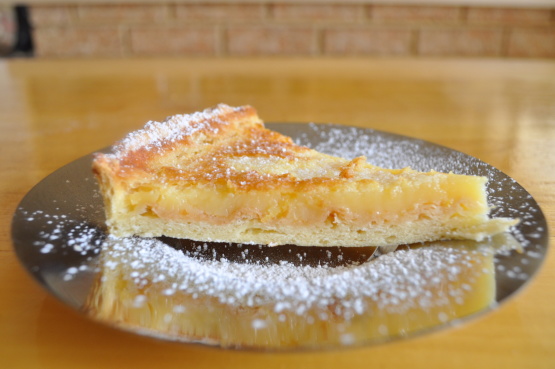 This is an easy to make and delicious pie based on the traditional French Tart Au Citron with only a fraction of the fat and calories. Prepare it in a flan or quiche pan if you have one. The recipe is from Anne Lindsay's New Light Cooking Edited to add: As stated by I'mPat, be sure to use the icing sugar to cut the tartness of this recipe.

Top Review by ImPat
If you like a tarty lemon tart them this is definately the recipe for you, I only used the zest of 1 large lemon but followed through with the rest of the ingredients and used a half mix of my own recipe of recipe #177343 177434 (Shortcrust Pastry) as the base but this was my only disaster as I used a new mini food processaor and didn't get it right and the pastry was a little tough but I was more than happy with the presentation and the recipe as a whole. Would definately advise the use of the icing sugar on top to help cut through the tartiness of the filling and also quite honestely think with a little icecream or cream on the side you could stretch this to 10 without problems. A lovely light refreshing dessert, made for Please Review My Recipe.
Using an electric mixer, beat eggs, egg whites and sugar for 4 minutes or until thick and creamy.
Beat in lemon rind.
Beating constantly, slowly drizzle in lemon juice and orange juice.
Pour into baked pie shell and place on baking sheet.
Bake in 350F oven for 25 to 30 minutes or until filling is slightly puffed, browned on top and barely set (may still be wobbly in center).
Let cool completely.(You may cover and refrigerate for up to 8 hours after this point).
Just before serving sift the icing sugar over top.