Meshka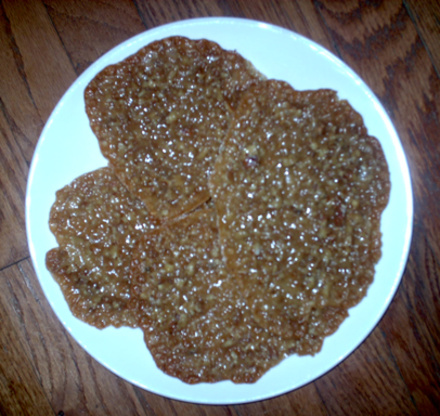 My aunt used to make these for us and I didn't know the name of them until now. These are sinfully delicious, but look very weird.

I make this same recipe every Christmas to give as gifts with other treats. I can't bear to see these wonderful treats given such a low rating! They're absolutely delicious! They're more like candy than a cookie. Here are my notes/suggestions: I always use butter instead of shortening. My notes from last Christmas say to bring the sugar mixture to a boil, then stir in the flour & nuts, and make sure it boils again or is still boiling after it's mixed in. I wait until the mixture is cooled down before trying to put them on the sheet. I let it cool until I can form tsp-sized balls with my hands, and then place them on the sheet. I think it's much easier than trying to mess with the sticky sticky goo. I've never tried wax paper on the cookie sheet before. I usually use a very lightly greased cookie sheet, but I may try parchment paper this year. You can tell that they are done when they change color from light to dark. Baking time will vary greatly in different ovens. Getting these off the sheet is a matter of luck, timing, and practice. My notes from last Christmas: Using Air Bake sheets in my oven, it takes 7 minutes. Wave tray in air to cool after removing from oven. They're ready to come off when you hear a popping/cracking noise. (Which I assume is the candy hardening, maybe?) UPDATE! Parchment paper works WONDERFULLY!!! I just got the first batch out of the oven, they were in there for 8 minutes on my large Air Bake cookie sheet, with a piece of parchment paper on it. I put the cookie goo into the fridge to cool off enough so that I could use my fingers to push it into a tsp. I am SO happy how well they turned out!
Heat oven to 375.
Sift flour and Blend with nuts.
Bring corn syrup, shortening, and sugar to boil in saucepan over medium heat, stirring constantly.
Remove from heat; gradually stir in flour and nuts.
Drop batter by level teaspoonfuls about 3 inches apart on baking sheet covered with wax paper (Bake only 8-9 at a time).
Bake 5-6 min; allow to stand 5 minutes before removing.