French Green Beans Sautéed With Mushrooms and Almonds
PaulaG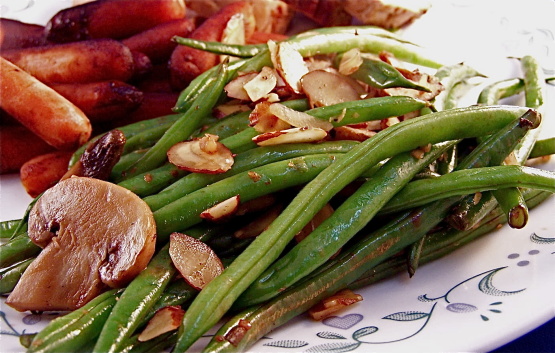 I created this Asian-inspired dish last night. It is permissible for phase one of the South Beach Diet and we LOVED it. I used frozen french beans from Trader Joe's, but fresh beans would be wonderful! Amounts are highly approximated; I didn't measure when making this, but this is pretty similar to what I did. (If using fresh beans, you'd probably want to blanch them in boiling water and then plunge in ice water, and *then* add to the pan.)

Loved them! Thanks for sharing!
1

tablespoon olive oil

2 -3

garlic cloves

6

large button mushrooms, sliced
1⁄2-3⁄4 cup whole almond (more or less to taste and to fit your dieting goals)
1⁄2 lb frozen French-cut green beans (like those found at Trader Joe's but any would work, including fresh, also, you may want to add more)
soy sauce, to taste
Heat oil over medium heat.
Sauté garlic until soft, being careful not to let it burn.
Add sliced mushrooms and sauté until they look fairly cooked and shiny (about 5 minutes).
Add almonds and sauté for a couple more minutes.
Finally, add frozen green beans and splash of soy sauce.
Stir frequently until beans are just cooked and, of course, no longer frozen.
If not on the south beach diet or watching sugar intake, you could add oyster sauce or other Asian condiment to the mixture.