French Green Beans in Cream
Cathy17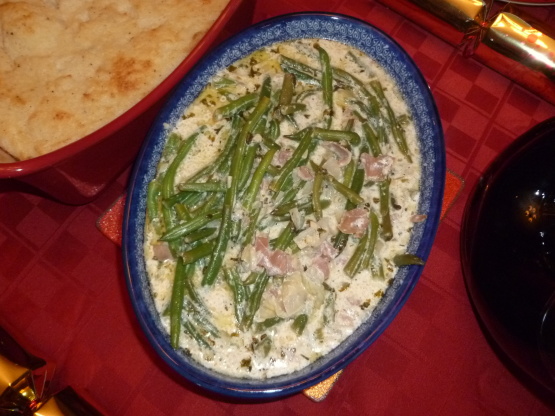 I got this recipe from Good Housekeeping UK when at the Helsinki Airport a few weeks ago. Looked good and made for Canadian Thanksgiving. It was a hit! Very tasty and easy!
Cut the ends off the beans, then cook in salted boiling water until just tender. I steam them til they are still crisp and bright green.
Run cold water over beans to stop the cooking process.
Melt butter in a large pan and gently cook onions until soft, about 5 minutes.
Add Prosciutto, garlic, and parsley and cook for 3 minutes.
Add the cream, stirring constantly, and bring to a light boil. Do not leave unattended, otherwise cream will burn.
Once mixture is hot, add green beans, mix to coat and warmed through.
I did the sauce and green beans ahead, mixed them together and reheated on the stove. Turned out great!