Rita1652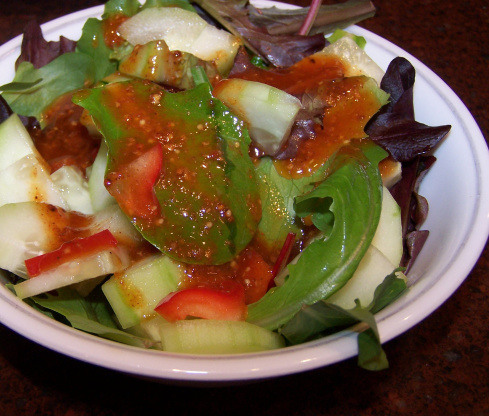 A classic! This dressing is the accompaniment to Chef Salad. I used this pretty often as a normal, everyday dressing. Can be stored in the fridge for 3 days. Remember, egg is always optional. Have fun!

This is good. I also left out the egg substitute. I used only liquid honey in a greater amount than the called for sweetener, leaving out the sugar to be healthier and using organic apple cider vinegar in place of red wine vinegar for religious reasons, regular mustard, freshly ground black pepper (not white), garlic salt in a bit larger amount, leaving out the salt, and less extra virgin olive oil out of preference. Made for Veggie Swap #45 ~ April 2012 ~
Add all ingredients in a mason jar except olive oil. Shake these ingredients, adding olive oil slowly, and shaking often.
Let sit in fridge for an hour or so, and serve on any salad greens.