French Dip With Italian Attitude
Pamela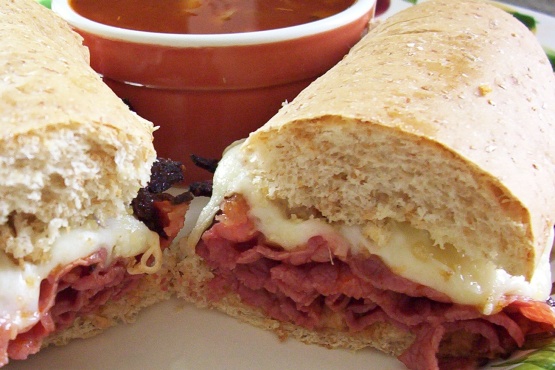 I got this recipe from Rachael Ray's new TV show. It is so easy and so good. I have made many French Dip's, but this is by far the easiest and tastiest. You won't be disappointed.

Super easy and soo delicious! I did add in a tbs. of worchestershire sauce that another reviewer said and I used ketchup in place of the tomato paste. I didnt want to open up a can of it to waste most of it. This recipe makes enough for two large sandwiches for two people. So flavorful and we loved the au jus to dip it in! This is a favorite for sure and a super time saver for a great sandwich that tastes like you were cooking all day!
Slice baguette open lengthwise. If you prefer you can leave one side together so it opens like a book.
Transfer the bread to a cookie sheet and toast under the broiler until golden brown. The bread toasts very fast under a hot broil, do not leave it unattended.
Rub cut side of toasted bread with crushed garlic clove and drizzle with a little olive oil.
Cover the browned, drizzled, bread with the grated Parmigiano Reggiano cheese.
To make the dipping jus:.
While the bread is toasting, heat a skillet over medium-high heat, add about 2 tbls. olive oil, onion, chopped garlic, tomato paste and rosemary. Season with a little salt and pepper.
Cook this until the onion start to get soft, about 2 - 3 minutes.
Add beef stock, bring to a simmer and cook for about 2 - 3 minutes to let the flavors come together and it will thicken up just slightly.
Using tongs swish a few slices of roast beef at a time through the hot broth then transfer to the cheesy garlic bread.
You just want the beef to get heated through, remember the beef is already cooked.
If you like an extra juicy French Dip you can dip the browned edge of the bread in the stock mixture before topping with the beef.
Mound the warmed beef on the bread, top with the provolone cheese & transfer to the broiler to just melt the cheese.
This is all on one half of the bread, so when you put the sandwich under the broiler to melt the provolone do not include the "top" of the sandwich.
Enjoy.