French Crème Peanut Butter Cookies
Olive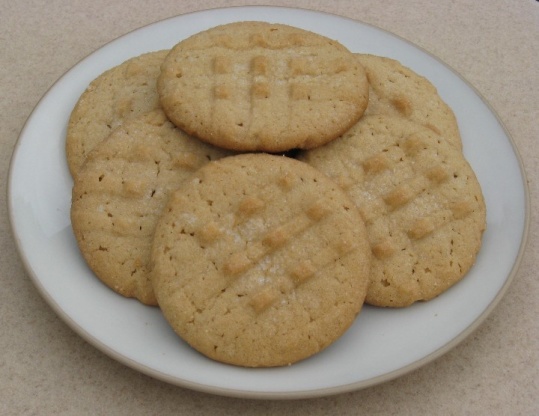 I got this recipe out of an old 4-H cookbook years ago. These peanut butter cookies almost melt in your mouth. They are packed with peanut butter flavor, but are light and delicate. You must let them cool on the baking sheet a few minutes after removing them from the oven because they can crumble easily if you don't.

Very light, tasty shortbread-like cookies. I used butter-flavored Crisco and they were a big hit. Thanks for sharing this!
Preheat oven to 350 degrees. In a large mixing bowl, cream butter, Crisco, & peanut butter. Add powdered sugar & beat until fluffy. Blend in vanilla & egg and beat until creamy. Stir in the flour, soda, salt, & cream of tarter; mix well. Chill for about 30 minutes or so for easier handling. Roll dough into 1-inch balls & place them 2-3 inches apart on a parchment lined cookie sheet. Slightly, flatten each cookie ball with a fork….using a cris-cross pattern. Note: coat a fork with shortening, and then dip the fork in sugar before cris-crossing each cookie so the fork don't stick to the dough. Bake for about 12 minutes. Cool cookies on cookie sheets a bit because these cookies can crumble easily if you don't let them rest. Then… Remove from cookie sheets & cool on racks completely.