Rita1652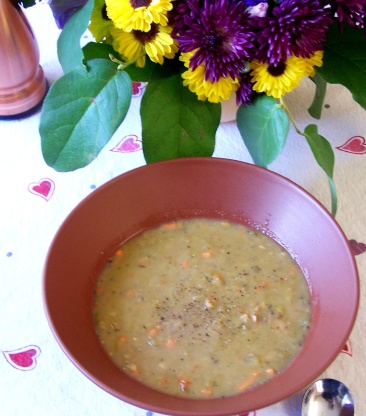 This another of my mom's recipes. My brother hated pea soup, but out of desperation tried it one day. He now makes it himself.

very good! I did want to lower the fat so I used low fat milk which could have been skipped completely because I do enjoy this thick. I didn`t use the Bouillon because my ham had plenty of meat to flavor the soup. I didn`t use the bacon and butter. I found this very comforting good and healthy! Thanks!
Rinse peas.
In heavy pot mix peas, ham bone, onion, salt, pepper and onion with 8 cups of water.
Bring to boil, reduce heat and cover. Simmer for 1 ½ hours stirring often.
Remove ham bone from heat and chop meat.
Return meat to pot, add vegetables and simmer 30 minutes.
Add cooked crumbled bacon, cream and butter.
Heat through and serve.