French Bread With Roasted Garlic and a Hint of Lavender!!!
Rita1652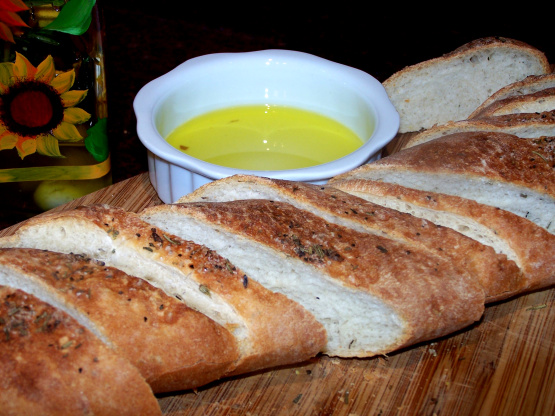 French bread with a hint of Lavender. Goes great with roast meats to soak up the juices or just put butter or cheese on it or dip into olive oil and share with your Loved one! Use the bread machine to make and baked in the oven. Follow your bread machine directions. If you don't have a french bread setting just remove dough from the machine before the final rising stage and shape as directed.

The flavors in this bread were just superb! First I cut the recipe in half and prepped the dough
in an ABM. Transferred the dough to a floured board and cut the dough into two pieces to make two round loaves. Arranged the rounds on a parchment-lined baking sheet, covered with sacking cloth and let rise in a warm oven for about 30 minutes. Made three slices in each piece, garnished with rosemary, lavender and coarse salt and baked about 25 minutes. Perfect! Reviewed for Veg Tag/May. PS I used fresh rosemary from our garden.
Add water to the machine following with the rest of the ingredients as listed. Be sure not to have the salt (place salt in a corner)and yeast touch.
Use the french bread setting press start.
When the dough cycle has finished remove dough from machine place it on a floured work surface.
Punch down divide into 2.
Start with one rolling into 7-8 X 3 inches. Fold one third up lengthwise and one third down then press. Repeat twice more letting the dough rest in between foldings.
Gentle roll and stretch each piece to 11-13 inch loaf.
Place loaf on a lightly floured bread pan so it will keep its shape while rising.
Cover with lightly oiled plastic wrap and rise for 30-45 minutes in a warm place.
Slash tops with a sharp knife.
Sprinkle with more herbs and coarse salt.
For a glaze you can brush the bread before sprinkling with an egg wash!
Or leave as directed for a rustic look.
Place into a preheated oven at 450 degrees. In a pan below add a hand full of ice cubes. Bake until golden brown for about 15-20 minutes.
Transfer to wire rack and cool.