French Bread With Pesto and Peppers
Rita~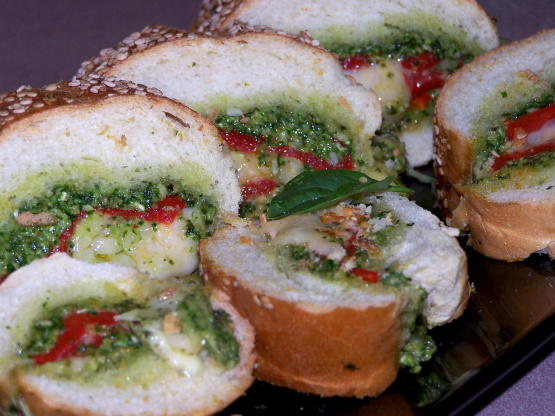 From costco.com's online cookbook "cooking the costco way". ZWT 3: France (bread) and Italy (pesto)

Wow. Simple really is best and this is a great example of that! I used only 1/2 loaf french bread and just eyeballed it from there. I layered maybe half of the 7 oz. container of pesto I had, then put a single layer of roasted red peppers on top of that, then thinly sliced (I did not want to clean my grater!) mozzarella on top. The crust became beautifully brown and crunchy in the oven and I was devouring it as soon as I took it out. I even managed to get my 7 year old to try pesto with this recipe. Thank you so much!
595.33

g jar basil pesto (or your favorite recipe)

2

loaf French bread, 24 inches long, sliced lengthwise

680.38

g jarsweet roasted red peppers, drained and sliced

226.79

g shredded mozzarella cheese or 226.79 g shredded three-cheese blend
Preheat oven to 350.
Spread pesto on the cut sides of both loaves of bread.
Arrange red peppers on the bottom two halves, and sprinkle cheese over peppers.
Replace the top halves of bread.
Wrap each loaf in aluminum foil.
Bake for 20 minutes, or until cheese melts.
Cut into 2 inch pieces.