WiGal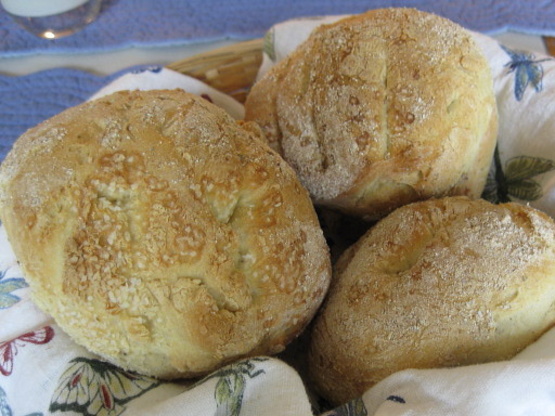 Source: "Fine Cooking" This is one of my recently adopted recipes. I prepared it and it is wonderful. The end result are rolls with a crispy crust and soft chewy center. I always add wheat gluten when adding the flour. This produces a superior quality of bread so I am including it in the list of ingredients.

I made half the recipe with no problems. Put all the ingredients into my bread machine on the dough cycle & went to work for 4 hours. Yes I cheated but when a girls got to work(7 days a week) a girl will do whatever it takes. Came home divided it into rolls let rise for 40 minutes. Baked for 20 minutes took out let cool for 5 minutes before everyone attacked them. The aroma was heavenly. The crust was so ever crisp and the inside was soft and warm. YES WONDERFUL COMFORT FOOD!
Dissolve yeast in mixer with water.
Add melted butter, sugar, dry milk, salt and pepper.
Whisk to incorporate.
Add 4 cups of flour and mix with dough hook.
Add additional flour until dough leaves the side of the bowl.
Knead dough by hand with a little flour until it is smooth and elastic Let rise in greased bowl, covered for about 2 hours until doubled.
At this point the dough can be refrigerated overnight or for 2 days.
Bring to room temperature before shaping.
Punch down and let rise until doubled again, about 2 hours.
Shape into 3 oz rolls, let rise covered for 45 minutes to 1 hour.
Sprinkle with rye (or all purpose) flour, slash with lame quite deeply, sprinkle with salt.
Bake at 450 for 20-25 minutes (throw 1/4 cup ice water onto bottom of oven as soon as rolls are put in or spray sides of oven with cold water), reduce heat to 400 and bake another 5 minutes.
Turn off oven and let rolls sit to crisp for another 5 minutes.
Cool at least 20 minutes.
Store rolls in plastic bag.
To recrisp, put into 400 oven for 5 minutes.