French Bread Pizza Rustica
GaylaJ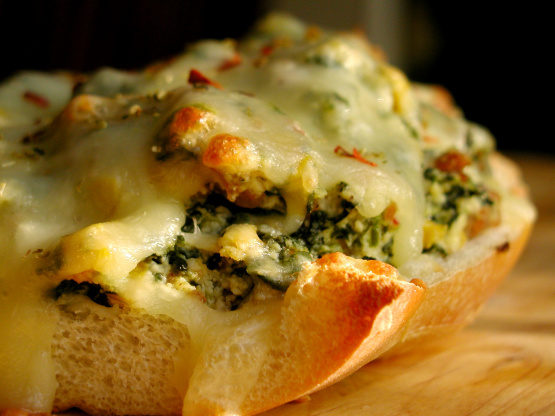 This is a Rachael Ray recipe I modified quite a bit to suit our tastes, so feel free to play with it to suit yours. So good, I crave it if we don't have it twice a month. I serve it with homemade pizza sauce.

Top Review by GaylaJ
Wonderful! The only change I made was subbing an orange bell pepper for the red, just to use what I had on hand (although the red would have provided a prettier color contrast). I made this for the Pick A Chef game and we all loved it--thanks for posting the recipe!
Preheat oven to 425°F.
Split bread lengthwise and hollow it out. Cut in half across to make 4 shells.
Brown sausage in a skillet over medium-high, breaking up large pieces with a spoon.
Add bell pepper, onion, and garlic; cook 3-5 minutes. Add spinach. Remove from heat and season to taste with salt and pepper.
Transfer mixture to a bowl. Add ricotta and parmesan and combine well. Fill bread shells and top with mounded mozzarella and provolone.
Bake in hot oven until cheese melts and bubbles and bread is super crisp, about 10-12 minutes.
Top with oregano and crushed red pepper and serve with marinara.