CarolAT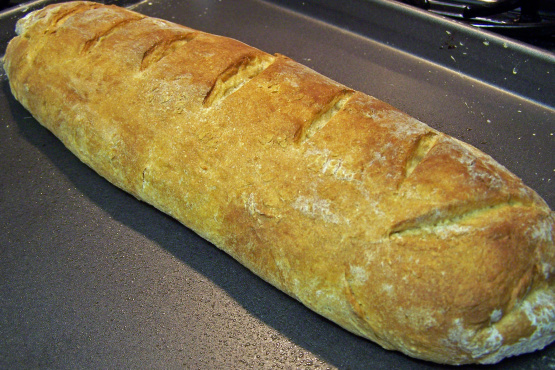 This recipe uses Whole-Wheat Hot Roll Mix to make quick work of mixing and baking. The recipe is from More Make a Mix Cookbook.

I received a beautiful jar from PaulaG filled with her whole wheat hot roll mix, and a packet of yeast to make this French bread. I have limited experience in making bread from scratch, but this recipe was easy to follow and the results were great. The bread came out crusty on the outside and moist on the inside. Thanks PaulaG.
In a large bowl, stir the yeast into lukewarm water and allow to rest for 5 minutes; stir in beaten egg.
Add 2 1/2 cups of whole-wheat hot roll mix until blended; let rest 2 minutes.
Stir in enough of the remaining mix to make a soft dough; knead until smooth, 7 to 10 minutes.
Clean and oil bowl, place dough in bowl, turning to oil all sides.
Cover with a damp towel and allow to rise in a warm place until doubled in bulk, about 1 hour.
Grease a baking sheet, sprinkle with cornmeal and set aside.
Punch down the dough and on a lightly floured surface roll into a 10 inch x 3 inch rectangle.
Roll up firmly jelly-roll fashion, starting with one long side; pinch to seal edges.
Place the rolled loaf on prepared baking sheet, seam-side down.
Make 5 diagonal slashes across top of loaf; brush with water.
Let rise until almost doubled in bulk.
Preheat oven to 375 degrees; brush loaf with water again and sprinkle with sesame seeds if desired.
Place a baking pan on lower shelf of oven, pour 1 inch warm water in pan, place the loaf on center rack and bake for 30 to 35 minutes or until golden brown.
Brush with melted butter; cool on wire rack.