ALH7401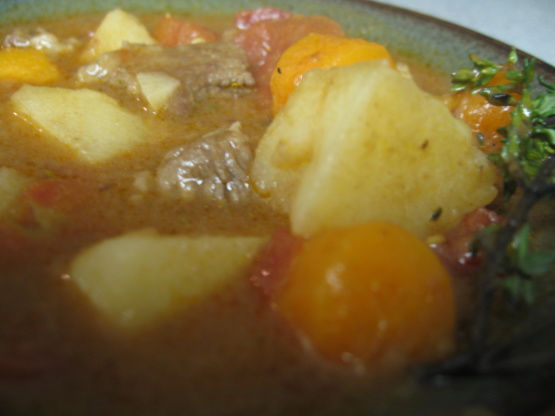 I have never, ever liked stew before trying this one. This has no onions and a nice "tart" taste, plus the meat and potatoes aren't cooked to mush. We loved it! Am printing the recipe as originally posted on allrecipes.com (submitted by Corwynn Darkholme) but I made some substitutions based on what I had on hand. Instead of fresh potatoes, I used two 16 oz. cans of whole potatoes (halved). Also used a coarse stoneground mustard in place of the Dijon. If your mustard is salty, be sure NOT to salt the beef when you brown it. The flavor of the stew was wonderful BEFORE adding the mustard, so you could definitely leave that out and still have a delicious dish. I served with cornbread, but warm crusty French bread would be great as well.

I made this exact recipe from Del Monte cookbook. It is a bit acidic from the tomatoes, but otherwise it is a really good stew. It isn't exactly like I would consider a normal stew, but considering it only takes an hour or so to cook I can't really expect it to exactly replicate a normal stew. Really enjoyed the taste though.
Combine meat and flour in a large plastic food storage bag and toss to coat evenly.
In a 6-quart saucepan or stockpot, brown meat in hot vegetable oil.
Season with salt and pepper, if desired.
Add diced tomatoes, beef broth, carrots, potatoes and thyme.
Bring to a boil, reduce heat to medium-low, cover and simmer for 1- 1 1/2 hours, until beef is tender.
Blend in mustard and serve.
If you like a thicker stew, mix 3 or 4 tablespoons of flour with some water and add to the pot.
Heat and stir for a few minutes more, until thickened.