JLStehr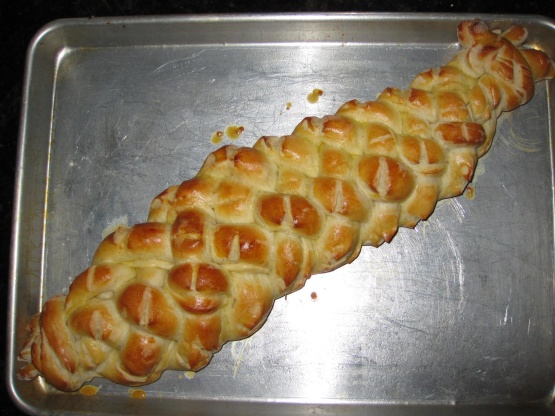 My family and friends absolutely love this bread. After rolling it out you can add either crushed rosemary for a more traditional meal; or if you're just eating it as a snack, I like to add a bit of shredded medium cheddar cheese. I also braid it for a fun look and easy tearing. Delicious and there's never any leftovers after the first day!
Place water, flour, sugar, salt and yeast into bread machine and set to dough cycle. Press start.
When the cycle is complete, place dough in a greased bowl and turn to coat. Cover and let rise in a warm place for 30 minutes.
Punch down on a lightly floured surface and roll into 16 x 12 inch rectangle. Cut in half, creating two 8 x 12 inch rectangles. Roll up each half tightly beginning at 12 inch side and pound out any bubbles as you go. Roll gently back and forth to taper the end. Place 3 inches apart on a greased cookie sheet. Make diagonal slashes across the loaves or one lengthwise on each loaf. Cover and let rise in a warm place for 30 minutes.
Preheat oven to 375. Mix egg yolk with 1 tbsp water and brush on loaves. Bake for 20 to 25 minutes or until golden brown.