2Bleu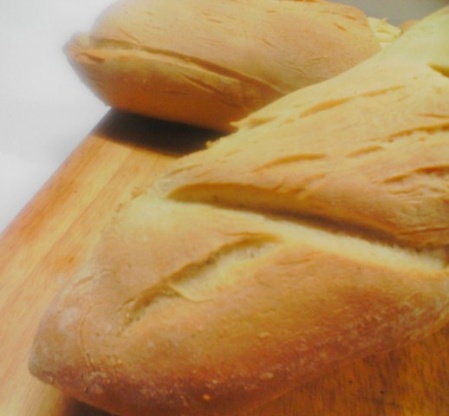 I have not tried this recipe. I got it from Daily Recipe.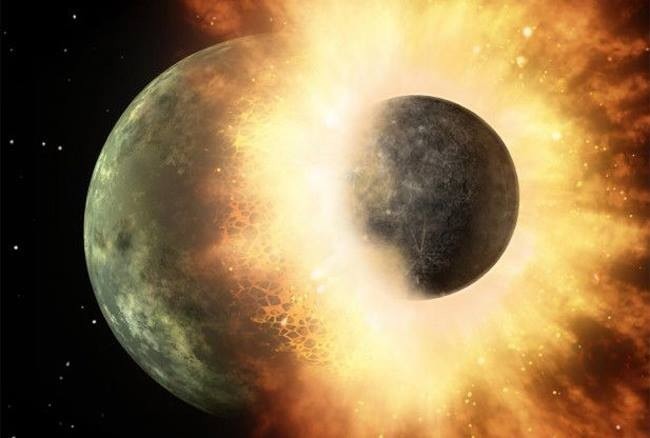 Top Review by 2Bleu
The photos we posted only show 2 loaves, but we did get 3. (We ate one loaf right out from the oven). We made this bread as an accompaniment to Recipe #281147 and was not dissapointed. This bread has a very crunchy exterior, and wonderful soft interior. A very simple bread to make. The only alteration we did was to sprinkle the baking sheet with cornmeal which gives a wonderful bottom texture. Thanks for sharing this recipe. ~2Bleu
In a large bowl or electric mixer, sprinkle yeast over 1/4 cup of warm water. Add sugar and let stand until yeast is soft (about 5 minutes). Stir in remaining 1 3/4 cups water and salt. Add 4 cups of the flour. Mix to blend, then beat at medium speed until smooth and elastic (about 5 minutes).
Gradually beat in about 1 more cup of flour to make a soft dough. Turn dough out onto a boar or pastry cloth floured with some of the remaining 1/2 to 1 cup flour. Knead until dough is springy and small bubbles form just under the surface (10-15 minutes), adding just enough flour to prevent dough from being sticky. Turn dough into a greased bowl. Cover with plastic wrap and a towel let rise in a warm place until doubled in bulk (about 1 hour).
Punch down dough; knead dough lightly into a ball on a floured surface. Cover with inverted bowl and let rest for 10 minutes. Divide dough into 3 equal portions. Shape each into a slender oval loaf 16 to 18 inches long by rolling the ball of dough under palms of hands to elongate it. Place well apart on a large, greased baking sheet. Let ride until puffy but not quite doubled (20 to 25 minutes).
Preheat oven to 450 degrees. With a razoor blade or very sharp knife make 3 diagonal slashes, about 1/2 inch deep, down center of each loaf. Before baking use an atomizer or spray bottle filled with cold water to spray with a very light mist of moisture. Place in oven, then spray twice more at 3 minute intervals. Bake until bread is well browned (25 to 30 minutes total). Slide onto wire racks to cool.