French Apple or Peach Cake
momaphet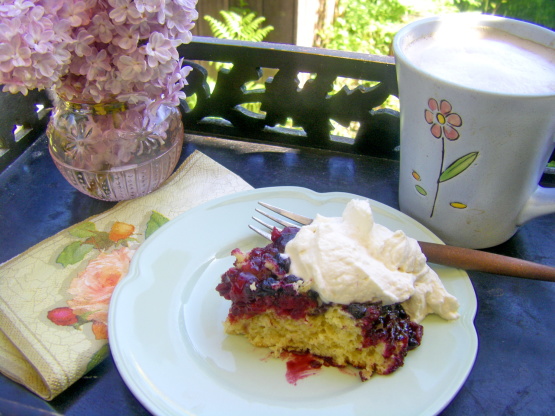 This is a cobbler like cake that went together easily and was very tasty. I made several changes but still kept to the concept of the recipe. I used a combination of frozen raspberries, blueberries, and blackberries. I reduced the sugar by half in the berries and sprinkled them with cinnamon, nutmeg, cloves and allspice. A whole cup of sugar would have been way too sweet. I used the juice from only half a small lemon and it was still quite noticable I would reduce it further. In the cake I cut the sugar to 1/3 cup we liked that level of sweetness - though I think the 1/2 cup would be fine too. I added 1 tsp vanilla and a 1/2 tsp almond extract - I would increase the almond next time especially if making a peach cake. Without the flavorings this would have been very bland. The cake has a slightly course texture that was fine with the berries - DH thought it might have been too dry if I'd used the apples. I served it with lightly sweetened whipped cream. Thank you so much for sharing your recipe, I will be trying it again with other fruit. MAde for ZWT5 for the Cooks With Dirty Faces.
Preheat oven to 425°F
Grease a deep 8" pan or ovenproof dish -- and cover the bottom well with the apples.
Sprinkle the fruit with 2/3 cup sugar, cinnamon and the juice and zest of the lemon.
Lightly mix in 1 tbsp flour. Set aside.
Sift flour. Resift with sugar, baking powder and salt.
Beat and add the egg yolks, melted butter and milk.
Beat these ingredients with swift strokes until blended.
Cover the fruit with the batter.
Bake the cake for about 30 minutes.
Reverse it on a platter. Cool slightly.
Use the egg whites for a meringue if desired.