katew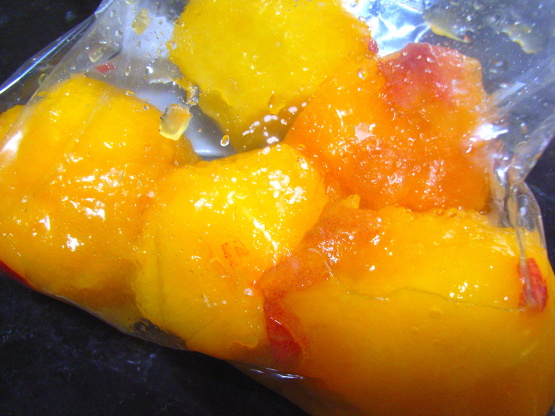 A good way to freeze instead of can your peaches.From the Ball company.

Top Review by katew
It was perfect timing find this recipe today. I bought a bag of peaches today at a reduced price as they were ready to use immediately. So it was a perfect opportunity to freeze them in this manner . I used some lemon juice on them as I did not know what fruit fresh is/was. So they are now happily in the freezer waiting till I need them - they will probably be pureed at Xmas and go into bellini cocktails !!
2⁄3 cup sugar

2

teaspoons fruit fresh

1

quart peach, peeled and sliced
Mix the sugar and fruit fresh together. Gently toss the peaches until coated. Let sit for ten minutes to let the juices develop. Pack in quart freezer bags. Store in freezer for up to a year.