Easy, blender free, slushy, margarita. Perfect for camping, the RV or just to have on hand for a quick and yummy frozen drink! Just dump it all into a tupperware type container and freeze! The alcohol prevents it from freezing solid. Prep time does not include freeze time.
1 (12 ounce) can limeade
3 (12 ounce) cans water
1 (12 ounce) can tequila
6 ounces cans triple sec
Directions
Place everything into a sealable container.
Freeze until firm.
Brake/Stir the concoction until its a yummy, slushy drink!
Reviews
Most Helpful
I`ve used your recipe before & I always double it. This time I put it all in a 1 gallon pitcher, measured out how much to fill a Margarita glass which was a cup & a half. I then used the measuring cup filled to that amount & put them in individual sandwich bags. My freezer required an overnight freeze. Now I have 12 individual Margarita`s ready to go! I only use 3/4 of the can of Tequila, that`s plenty strong enough for me Ha! Before when I made these in a pitcher in the freezer I had to keep taking it out & stirring it as it froze & still sometimes it wouldn`t be mixed right. I don`t know that much about dry ice but have wondered about putting these individual bags then in tupperware in an ice chest with dry ice to take camping. A great recipe that now I`m just doing differently! Thanks so much.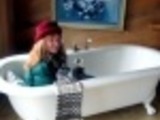 What an easy, tasty recipe! I made it during a recent "heat wave" here in the N.W. I had no triple sec on hand and used Grand Marnier instead, with good results. When I tasted the mixture before freezing it, I thought it was going to turn out too watery. But, the flavor was great after freezing it! I love having this on hand for guests, and that I don't have to use a blender to make it. Thanks for the recipe, dukeswalker! Lynnie
I made this for my husband & a friend. I don't like tequila, so I can't give my personal opinion on this recipe. My husband liked it and my friend said it was good, but strong.