PaulaG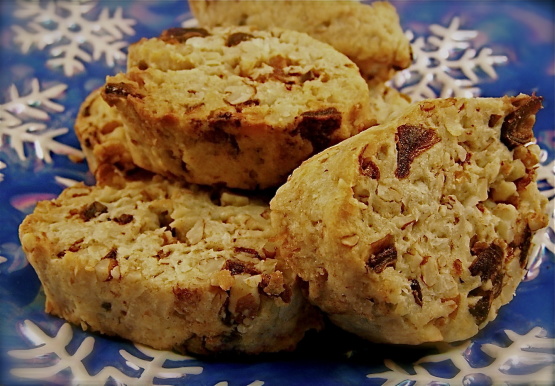 This recipe is from the 1981 Sunset Vegetarian Cooking cookbook. The cookies include a combination of dates, coconut and walnuts. Preparation time does not include time for dough to chill in freezer. Cooking time is approximate, depending on how many cookie sheets are in the oven at one time!
Very nice cookie. Especially good if you're looking for something that's not overly sweet. It's important that your butter be room temperature and soft. Mine was too cold and I had trouble getting the egg to mix in properly.
With an electric mixer, beat butter, egg and vanilla until smooth.
In separate bowl, whisk together flour, baking powder and salt.
Gradually add flour mixture to butter mixture, beating until blended.
Stir in dates, coconut and walnuts.
Form dough into two 1-1/2-inch rolls; wrap in wax paper or foil.
Chill in freezer until firm enough to slice easily (about 2 hours) or for as long as 1 month.
When ready to make, preheat oven to 350 degrees Fahrenheit.
Lightly grease several cookie sheets.
With sharp knife, cut rolls into 3/8-inch slices.
Place slices on prepared cookie sheets.
Bake about 12 minutes or until golden.
Cool on wire rack.