Rita1652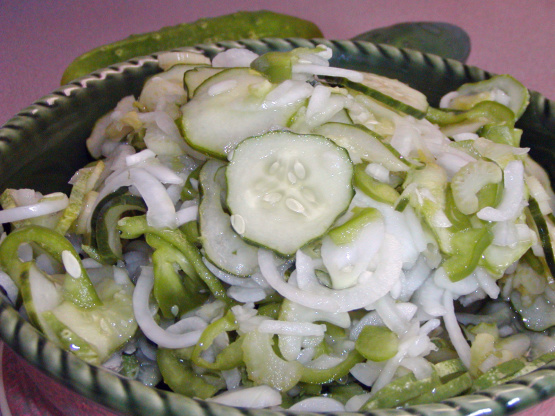 This is a old family recipe. My great aunt Hazel has been making these for a very long time. They are just wonderful. My mom uses a little of both.

Wow! Is all I can say. As a kid I hated what we used to call "Cucumber salad" Im not sure if it is the way you made it or what but its soooo yummy! I used Apple Cider Vinegar myself, because its what I had on hand. With the sugar though, it was really tasty! I only added peeled and sliced cucumbers and diced onions. Still turned out really good. Thanks so much for sharing!
Mix and stir the first three ingredients till disolved.
Then mix the rest and add the sugar/vinegar mixture and let rest 10 minites.
Freeze.