Catnip46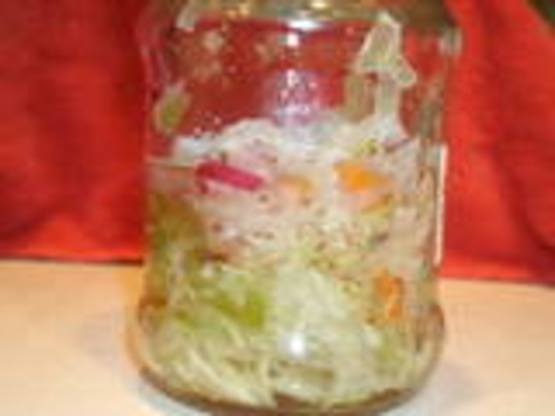 This recipe was submitted by a request for an Icebox Coleslaw. It is from Quick Cooking magazine. I have not yet tried this recipe, but it sure does sound delicious.

This is really good, sweet sour taste. But it definitely needs more sugar it was to sour. I added more sugar to it once I defrosted and tasted it. Other recipes are calling for 2 cups sugar to 1 cup vinegar and this is how I will make it from now on.
I couldn't believe how crispy and fresh it tasted and I had it in the freezer for 3 months.
In a large bowl, combine cabbage, carrots, green pepper and onion.
Add sugar and toss to coat.
In a saucepan, combine vinegar, oil, salt, mustard, and celery seed.
Bring to a boil.
Pour over cabbage mixture and toss to coat.
Cover and refrigerate for at least 2 hours before serving.
Coleslaw may be frozen up to 3 months, remove from the freezer 2 hours before serving.