Freeze Ahead Golden Glazed Carrots
Dorel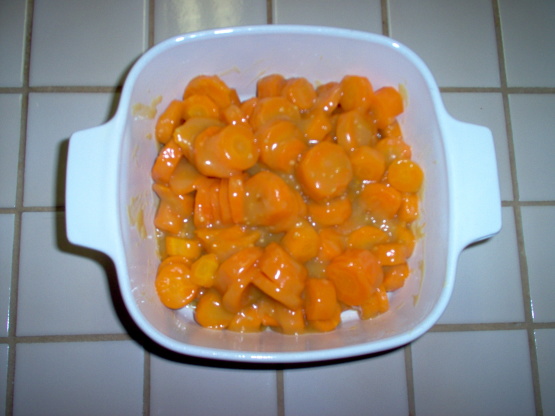 This is a very nice glazed carrot recipe I got from a Woman's Circle magazine. It includes what I think is a very clever way of freezing the carrots so you don't have to worry about defrosting; they can be baked right in the casserole you froze them in, without typing up the casserole dish in the freezer. And it's a technique you could probably use with many other frozen vegetables recipes. I hope you enjoy it!
Put the carrots in a saucepan and pour boiling water over them.
Return to the boil and boil for exactly 5 minutes, then drain thoroughly and set aside.
In another small saucepan, blend together the flour, sugar, salt and thyme.
Add vinegar, lemon and orange juices, and orange rind.
Bring to a boil while stirring until creamy.
Add butter and cook for 5 minutes over very low heat.
Line a casserole dish you'd like to eventually bake the carrots in with aluminum foil, cutting strips long enough so they can extend over the sides of the pan far enough so there is enough to eventually cover the carrots completely.
There should be enough strips to cover the bottom and sides of the casserole completely.
Add the blanched carrots to the foil lined casserole; pour the sauce over them.
Freeze as is, uncovered, until completely frozen.
Remove the pan from the freezer, fold over the foil to cover and wrap the carrots completely, and remove the package from the casserole.
Wrap again in more foil, plastic wrap or freezer wrap if desired, and return to the freezer.
When ready to serve, Preheat the oven to 350°F.
Spray the same casserole dish you used to freeze the carrots with non-stick spray, unwrap the carrots, and place them into the casserole dish.
Bake, covered, in a 350°F oven for 25 minutes.
Remove the cover and bake an additional 15 minutes.