Freezable Twice Baked Potatoes -- OAMC
lazyme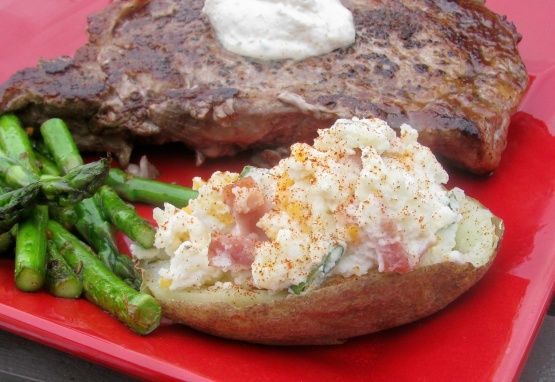 Economical and worthy of the time and effort to have on hand. A thinner-skinned potato seems to be more kid friendly. These can be scaled down effectively. There are about 10 - 12 potatoes per 5 pound bag resulting in 20 - 24 potato halves.

Top Review by ImPat
I used 6 medium potatoes for 4 of us as a side dish and we thoroughly enjoyed, I did not do as an OAMC but did prepare the potatoes earlier in the day and reheated for dinner later. I can really see the versatility in this recipe in that you can have it as a side or light meal with salad especially if you think a little ahead and defrost during the day and then a quick reheat while you cook your meat or prepare a salad. Thank you gailang, made for Name that Ingredient tag game.
Wash and dry potatoes. Cook on high power in microwave in batches of 5 or 6 repeating until all potatoes are cooked. Check for doneness by gently squeezing with a clean dishtowel and removing potatoes as they become soft. Each batch will take anywhere from 10 to 15 minutes, depending on the size of the potatoes; cool to touch.
Cut potato in half and carefully scoop pulp to within 1/4 inch of the skin, placing pulp in a large bowl; set aside shell portion.
To potato pulp, add melted butter and next 8 ingredients; stirring to combine well. Fill each potato shell, patting filling into place. Sprinkle with paprika.
Arrange potatoes on a baking sheet in a single layer and freeze. Place individual frozen potatoes in plastic freezer bag, squeezing out air or place in a resealable freezer container. Return to freezer.
To bake: Place frozen potatoes on a greased and foil-lined baking sheet. Bake frozen potatoes approximately 40-50 minutes at 350 degrees or until heated through.
For defrosted potatoes, bake approximately 25 minutes.
To microwave: Place desired amount of frozen potatoes on a microwavable-safe dish and cook on high power for approximately 3 minutes per potato. Take size into consideration.