Frappuccino Light...just Like That Star Place
Ms B.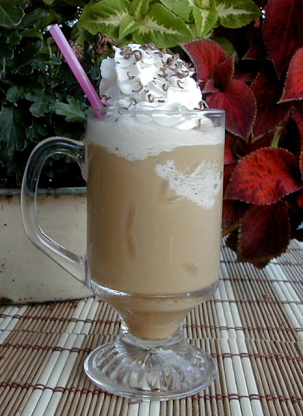 This is from Top Secret Recipes. Makes 2 "grande" drinks for a fraction of the cost of a coffee house. Prep time does not include time to prepare and chill coffee.

I used 2 tablespoons homemade caramel sauce instead of the artificial sweetener. I also increased the coffee to 1 1/2 cups and the milk to 1 cup to make 2 venti frappuccinos. It was just like a caramel light frappuccino from Starbucks; sooo good!
Prepare double strength French roast coffee by brewing with twice the grounds required by your coffee maker.
Chill the coffee (so as to not melt the ice).
Combine all ingredients (except whipped cream) in a blender and blend on high speed until the ice is crushed and drink is smooth.
Pour into 2 16-ounce glasses and add whipped cream on top.
Serve with a straw.