Frank's Redhot Buffalo Chicken Wings
gailanng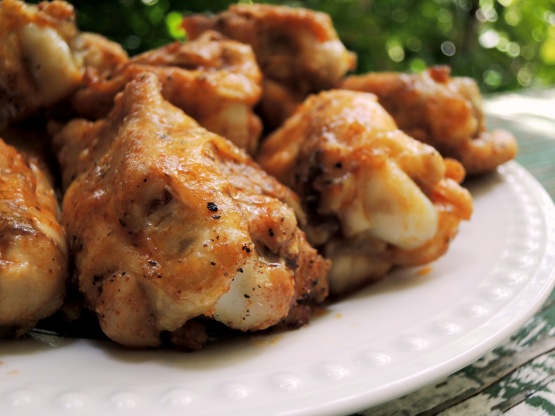 Thank you so much for sharing this recipe. I bought a bottle of the sauce and didn't want anything fried so I searched and your post was exactly what I needed. I baked the wings on 450 (it's the max temp in my oven) for about 45 minutes. They were better than the ones served at most restaurants in my area. Thank you.
2 1⁄2 lbs chicken wings
1⁄2 cup Frank's red hot sauce (or 3/4 cup Frank's RedHot Buffalo Wings Sauce)
1⁄3 cup butter, melted (if NOT using Frank's RedHot Buffalo Wings Sauce)

3

celery ribs, sliced in lengths as for dipping (optional)
1⁄2 cucumber, sliced (optional)
1⁄2 cup blue cheese, dip (optional)
If Frank's RedHot Buffalo Wings Sauce is not available, mix together the Frank's Red Hot Sauce with the butter.
Bake wings in foil-lined pan at 500°F on lowest oven rack for 20 to 25 minutes until crispy, turning once. ALTERNATIVELY: Deep-fry at 375°F for 10 minutes; OR broil 6-inches from heat 15 to 20 minutes, turning once; OR grill over medium heat 20 to 25 minutes turning often.
Toss wings in Buffalo Wings Sauce to coat.
Serve with blue cheese dip and/or cucumber slices and/or celery slices if desired.