Carie B.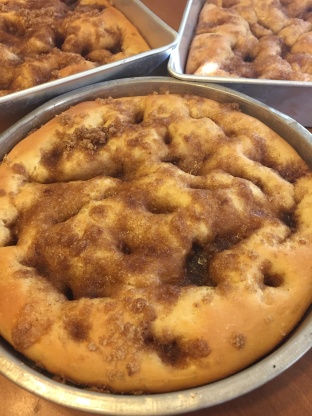 This is my late father's recipe. He did not make it with fruit like a ton of other kuchen recipes that I have seen. Its a cinnamon german coffeecake that he helped sale at my hometown's annual summer festival. He was part of the Knights of St.John and this is the kuchen that they sold every year at the festival. I sometimes drizzle vanilla glaze or icing on the top, but this is my doing and not part of the original recipe. One more thing..this will NOT rise up a lot. It rises only a small bit and the dough will not fill up and touch the edges of the round cake pans.
Scald milk and add butter, sugar,and salt.
Dissolve yeast in warm water and add to milk mixture.
Beat in eggs, then beat in flour and nutmeg.
Cover, and let rise until double, about an hour.
Divide into 3 pieces.
Place the 3 pieces into 3 separate greased round cake pans.
Cover and let rise again.
For the topping: Spread the 1/2 cup melted butter all over the tops of the 3 kuchens.
With finger, press holes one inch apart all over the top of the kuchens.
Combine the brown sugar, cinnamon and soft butter.
Divide brown sugar mixture evenly over the top of the kuchens.
Bake in 325 degree oven for about 20 min or until golden brown.
Note: After its cooled, you can add a vanilla glaze over the tops for an extra special treat.