Frankly Sauerkraut (Cooked on the Grill)
Kim127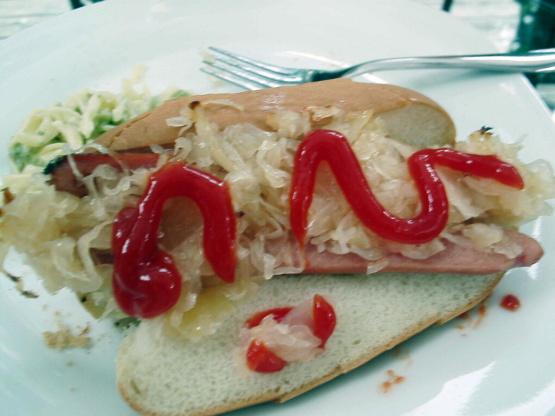 Hotdogs and sauerkraut are a natural pair. This recipe allows you to grill the perfect krautdogs. From the Sizzling Grills & Spectacular Salads cookbook.

FABULOUS recipe idea CraftyLady! We enjoyed these on the BBQ tonight for our supper and although I only cooked enough for 2, I can see that this recipe will be a great boon for larger gatherings! A really clever and simple idea and one that I can use for other sausages and what not!!! Made for the Aussie/NZ Recipe Swap #29 - as ever, it is a pleasure to make one of your recipes! FT:-)
12

hot dogs

29.58

ml prepared mustard

354.88

ml sauerkraut, drained

29.58

ml ketchup (optional)

12

hot dog buns, split and toasted (buttered, if desired)

236.59

ml chopped onion, cooked if desired
Slice each hotdog almost in half lengthwise, but not quite through to the other side. Press open. Spread 1/2 tsp mustard evenly on both cut side of each hotdog. Place 1 hotdog, cut-side up, on each of 12 individual sheets of heavy-duty (or double layer of regular) foil. Spoon about 2 tbsp sauerkraut onto each hotdog. Spread evenly. Fold edges of foil to enclose each hotdog. Preheat grill to medium. Place packets on ungreased grill. Close lid. Cook for about 5 minutes, turning once, until heated trough. Remove and discard foil.
Spread 1/2 teaspoon ketchup evenly on top half of each bun. Place 1 hotdog on botton half of each bun. Top each with onion, if desired. Cover each with top half of bun.