Frankly Sauerkraut (Cooked on the Grill)
Kim127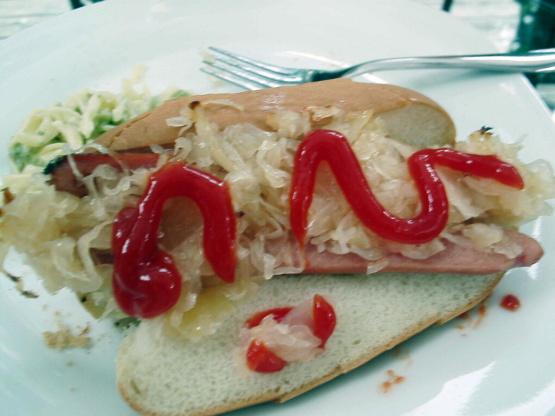 Hotdogs and sauerkraut are a natural pair. This recipe allows you to grill the perfect krautdogs. From the Sizzling Grills & Spectacular Salads cookbook.

FABULOUS recipe idea CraftyLady! We enjoyed these on the BBQ tonight for our supper and although I only cooked enough for 2, I can see that this recipe will be a great boon for larger gatherings! A really clever and simple idea and one that I can use for other sausages and what not!!! Made for the Aussie/NZ Recipe Swap #29 - as ever, it is a pleasure to make one of your recipes! FT:-)
12

hot dogs

2

tablespoons prepared mustard
1 1⁄2 cups sauerkraut, drained

2

tablespoons ketchup (optional)

12

hot dog buns, split and toasted (buttered, if desired)

1

cup chopped onion, cooked if desired
Slice each hotdog almost in half lengthwise, but not quite through to the other side. Press open. Spread 1/2 tsp mustard evenly on both cut side of each hotdog. Place 1 hotdog, cut-side up, on each of 12 individual sheets of heavy-duty (or double layer of regular) foil. Spoon about 2 tbsp sauerkraut onto each hotdog. Spread evenly. Fold edges of foil to enclose each hotdog. Preheat grill to medium. Place packets on ungreased grill. Close lid. Cook for about 5 minutes, turning once, until heated trough. Remove and discard foil.
Spread 1/2 teaspoon ketchup evenly on top half of each bun. Place 1 hotdog on botton half of each bun. Top each with onion, if desired. Cover each with top half of bun.