lets.eat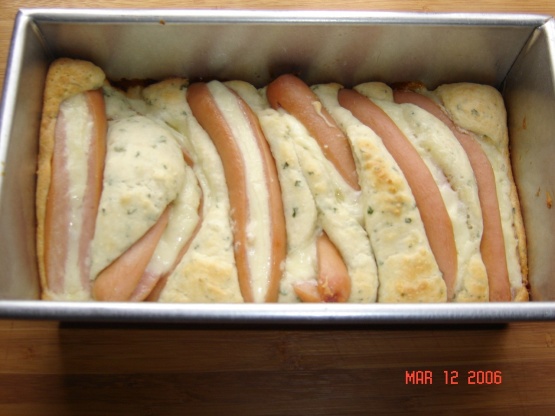 Think this idea came from Bisquick or a magazine, I can't remember. Tasty different twist on the ordinary hot dog!

I think this recipe would work much better with diced hot dogs and adding cheese cubes along with the dough. The flavor was just as expected, but kind of hard to cut, serve and eat. I was expecting to be able to cut a hot dog with dough intact in one nice clean sweep, but the bisquick separated and crumbled away from the frank for most of the part. So I ended up cutting this into cubes.
Heat oven to 400 degree.
Grease loaf pan 9x5x3.
Split franks lengthwise, not cutting completely through.
Fill each with strip of cheese or about 1 Tsp.
relish/catsup.
Beat remaining ingredients with fork 30 seconds.
Spread in pan.
Arrange franks crosswise on dough, curling lightly to fit pan and pressing slightly into dough.
Bake until bread is light brown, about 20 minutes.