Frankfurter Vegetable Stir-fry
Parsley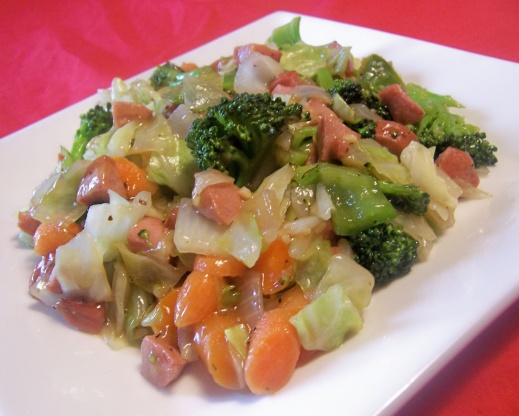 Hey we stir-fry everything else these days, so why not hot dogs!!

We do this too with stir frys! Best to chop in rounds i always find with lots of veggies and noodles. Yummy Good idea :)
In 9 or 10" nonstick skillet, heat oil over medium heat.
Add onion, carrot,pepper and garlic; saute about 5 minutes or until onion is translucent.
Reduce heat to low; add cabbage; cover skillet; cook stirring occasionally, about 10 minutes or until cabbage wilts.
Add frankfurter; cook until heated through.
Meanwhile in measuring cup or small bowl stir broth, cornstarch and soy sauce until cornstarch dissolves; pour over franfurter mixture; cook and stir until slightly thickened.