Fragrant Rice Pudding With Pistachios (Kheerni)
Coasty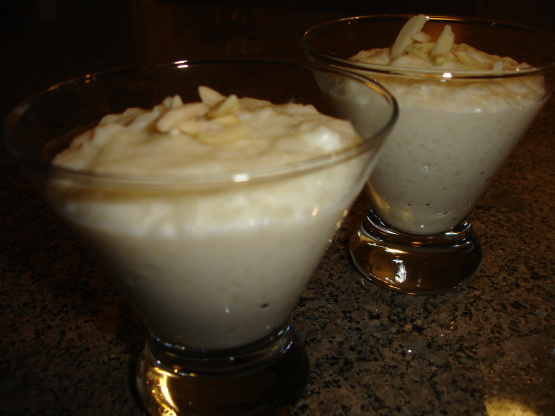 This traditional dessert is often pre[ared for Diwali, India's great Festival of Lights. Indians of all religions and sects join in 10 days of rejoicing and thanksgiving. For non-Indians, this dessert is a light, exotic twist from the usual rice pudding. Prep time does not include chilling time.

One of my favorite Indian desserts, love the rich cardamom flavor. Never thought to add bananas before, fantastic!! ZWT6
Bring 6 cups milk to boil in heavy shallow 5-quart saucepan. Rinse rice with cold water until water runs clear. Drain. Stir rice into milk. Reduce heat and simmer until pudding thickens and rice is very tender, stirring frequently, about 1-1/4 hours.
Puree 1/4 cup milk and almonds in blender until smooth, stopping occasionally to scrape down sides of blender. Add banana, sugar, cardamom and saffron and blend. Pour into pudding. Rinse blender with remaining 1/4 cup milk and add to pudding. Continue simmering until thickened to consistency of tapioca, about 10 minutes. Cool to room temperature. Cover and refrigerate until well chilled.
Just before serving, spoon into goblets and sprinkle with pistachios.