Fragrant Bulgur Pilaf (Moosewood)
Prep 20 mins
Cook 27 mins
From The Moosewood Restaurant Kitchen Garden book. Easily veganized- just leave out the feta cheese. Perfect for fresh summer herbs. Cook time is an estimate. We made this with mostly dried herbs and it still turned out great.
Directions
Preheat oven to 300 degrees.
In an ovenproof skillet large enough to contain all the ingredients, saute the onion, carrot, and pepper in the oil.
When the onion and carrot have just softened, add the bulgur and saute for a minute or two, stirring constantly to prevent scorching.
Add all of the rest of the ingredients and bring to a boil.
Cover and bake for 20 minutes until all the liquid is absorbed.
Served topped with crumbled feta cheese, if desired.
Most Helpful
What an easy, yummy, healthy recipe! We were looking for a recipe for bulgur that was a hot side and this will be the "go to" for the future. Doubled the veggies, omitted the spearmint and salt, soy and feta were enough. May try other veggie combinations. Served this with grilled tuna and a green bean and tomato salad.
Wow, nice! Very aromatic. I am a huge fan of bulgur. I used dried herbs, but it's probably better if you use fresh. Feta cheese made it sublime. I used low fat cheese, a celery rib instead of leaves, and a combination of peanuts and walnuts. I also reduced the olive oil and had no problems with sticking or scorching. I'm not used to putting stove top pans in the oven so I took it out and forgot and grabbed the handle to serve. Ouch! Oh well. Great as leftovers for lunch too:D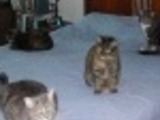 What a flavorful way to prepare bulgur! I used already-roasted red peppers, ground walnuts, chopped celery leaves, and the optional feta cheese. If you use the feta, you may not want to add the 1/4 tsp salt; the feta adds plenty of salt on its own. Thanks for sharing this simple, delicious recipe.